WINNOWER WM-1
This winnower WM-1 consists of an airstreamcleaner and with a handsieve, is to meant for precleaning, it is very suitable for lots of raw materials.
Technical data:
Volt 230/50 Hz.
Amp. 0,9 A
Size. 610 x 240 x 610 mm
Weight approx. 25 kg
CE approved.
Perforation of sieve round, as well as elliptical, size from 0.25 mm increasing in steps from 0.25 mm, although different sizes are possible.
The sieves are stackable.
Theory of operation:
The product is put into the sieve, (size 120x280x40 mm.), and is put onto the supporting rods on top of the winnower.
By making a shaking movement, everything smaller than the size of the holes in the sieve will fall through, like dust/dirt.
This will fall into a collecting hopper with an adjustable slide. By opening this slide the product will fall into a variable airstream.
By adjusting the airstream, the dust/dirt will be blown further away then the seed.
The seed will be collected in a tray just below the winnower WM-1.
Due to it's simplicity and light construction this winnower WM-1 is easy to move.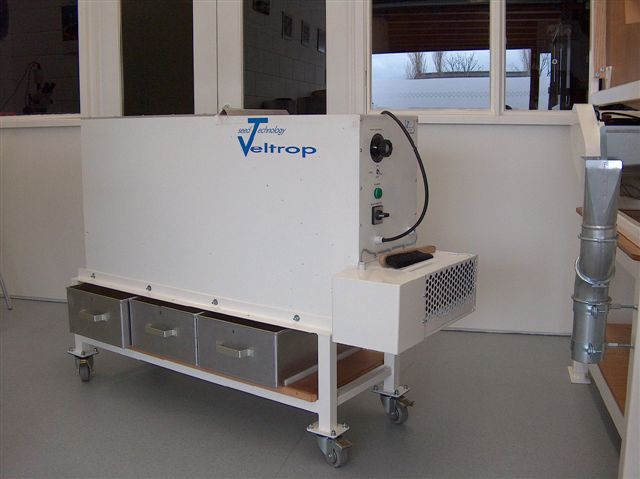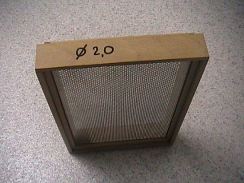 WINNOWER WM-2
Winnower with separation into three fractions, continuous adjustment of axial fan, by means of a frequency regulator, for optimum separation.